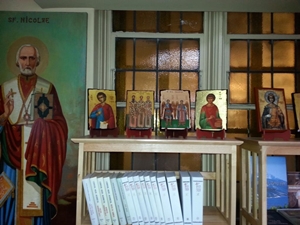 Religious books and icons


Photo Gallery
During 2013, in the new space created in the North part of the building, completed in 2008, a small shop of religious books and religious objects was established. Among Holy Bibles, psalteries, prayer books and theological writings, believers can obtain beautiful icons made by Romanian monks from the monasteries at Mount Athos (Greece). Titu Blaga and Gheorghe Teoderaşcu, with passion and faith, manage the administration of this shop, a true oasis of orthodoxy for all the faithful who enter the Saint George Romanian Church in Toronto.
The church store, selling religious books and icons, can offer you:
The Bible
Prayer books
Biographies of saints
Religious books for kids
Orthodox magazines
History of Holy Mountain Athos
There is a wide variety of orthodox icons available: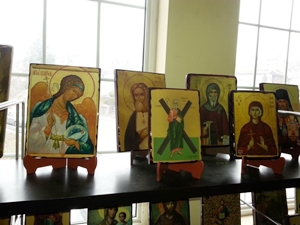 Jesus Christ
Virgin Mary
Saint John the Baptist
Saints Peter and Paul
Saint Andrew
Saint George
Saint Nicholas
Saint Demetrios
The Three Hierarchs Basil, Gregory and John
Saint Mina
Saint Panteleimon
Saint Seraphim of Sarov
Saint Anthony the Great
Saint John Maximovici
Saint Spyridon
Saint Emilion
Saint John the Russian
Saint Stelian
Saint Silouan the Athonite
Saint David the Prophet
Saint Ann with child Mary
Saint Martyr Catherine
Saint Empress Alexandra
The devoutly Parascheva of Iasi
The Guardian Angel
Also, at the church store you can find candle holders, crosses, incense vessels, myrrh, incense, CDs with payers and the audio Bible for kids.